Chorizo and eggs, garlic crunchy potatoes. Pour your eggs into your mixed potatoes and chorizo and stir or you can fold and make an omelet. Cook until done and server immediately, as scrambled eggs, a burrito or an omelet. If your crowd is really big eaters, add spainsh rice and refiried beans — I make this even on camping trips, you should.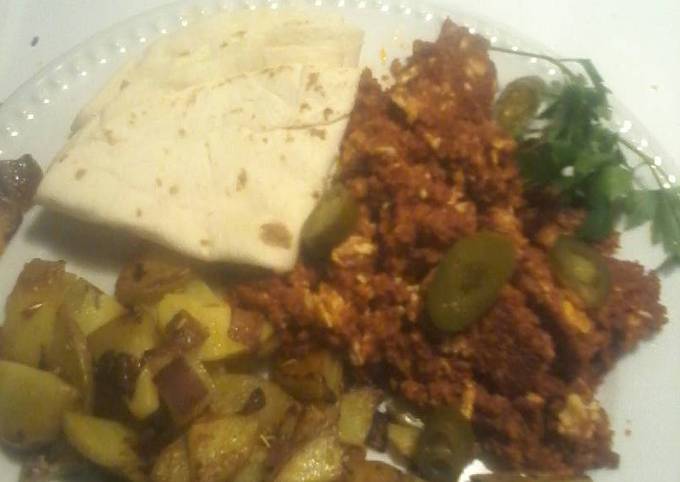 Once potatoes are seasoned thoroughly, stir well so all potatoes are coated evenly. Once they potatoes have a nice crunch and golden color, add the onions and garlic. In honor of National Potato Day I give you a super yummy breakfast of Hasselback Potatoes with Chorizo and Eggs. You can cook Chorizo and eggs, garlic crunchy potatoes using 10 ingredients and 5 steps. Here is how you cook that.
Ingredients of Chorizo and eggs, garlic crunchy potatoes
Prepare 1/2 pound of Chorizo.
You need 3 of large eggs.
Prepare 1 clove of garlic, minced.
Prepare 1/2 of red onion, chopped.
You need of salt.
You need of pepper.
You need of rosemary.
Prepare 1/4 cup of flour.
Prepare 3 of large potatoes.
You need of Cilantro to garnish.
Yes there really is a food holiday today called Potato Day. Not sure who made this one up but I'm guessing it was someone from Idaho! Thus we alone on our block had chorizo, or Mexican sausage scrambled up with eggs. I didn't even know that chorizo was the name of the sausage and not the dish until I was in my twenties.
Chorizo and eggs, garlic crunchy potatoes instructions
Chop 3 potatoes into burrito size pieces.
Bring water to a boil.
Boil potatoes until half cooked.
Dredge potatoes in flour, salt and pepper. Fry potatoes, minced garlic, and red onion in skillet on medium heat until brown.
Cook chorizo and add 3 eggs. Cook and prepare until done. Serve with cilantro garnish.
While the Spanish version is usually spiced with paprika and garlic, Mexican chorizo is spiced with chile peppers. Breakfast in Spain tends to be a simple affair of coffee with perhaps some toast and a slice of ham or a flaky pastry. It's a small, low-key kind of meal eaten at home or at a stand-up cafe bar on the way to work, and pales in comparison with the more leisurely lunches and late-night dinners the locals enjoy. Crispy potatoes in the cast iron skillet with flavorful chorizo and eggs surrounded by melted cheese. The super flavorful chorizo, crispy potatoes, baked eggs, cheddar cheese, and topped with fresh green onions… you'll have this on repeat every weekend!
I am the 1st Winner of Cooking with Chef TV Show. I love cooking.