Firstborn's Favorite Crunchy Soy Slaw.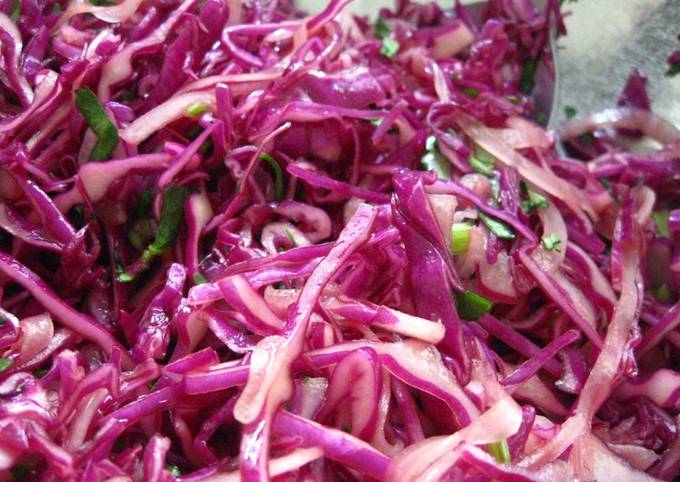 You can have Firstborn's Favorite Crunchy Soy Slaw using 8 ingredients and 2 steps. Here is how you cook it.
Ingredients of Firstborn's Favorite Crunchy Soy Slaw
Prepare 7-8 cups of very thinly sliced cabbage, about 1/2 a large head (I prefer red, but I use green if that's what I've got on hand.).
You need 1-2 of green onions, chopped, including whites.
Prepare 10-15 of stems cilantro, chopped, including the stem part.
It's 1/2 Tablespoon of minced garlic (a very small clove).
It's 1.5-2 Tablespoons of sugar (you can use honey or agave syrup if you prefer).
Prepare 2 Tablespoons of red wine vinegar (white wine and distilled white also work, even Balsamic in a pinch).
It's 2.5 Tablespoons of soy sauce.
You need 2 Tablespoons of olive or vegetable oil.
Firstborn's Favorite Crunchy Soy Slaw instructions
Combine all ingredients in large mixing bowl and toss thoroughly until seasoning is evenly distributed. Serve on a platter sprinkled with extra chopped green onions or cilantro if you like..
Also delicious with added avocado and toasted almond pieces..
I am the 1st Winner of Cooking with Chef TV Show. I love cooking.