1-Pot Cauliflower Dal Green Curry.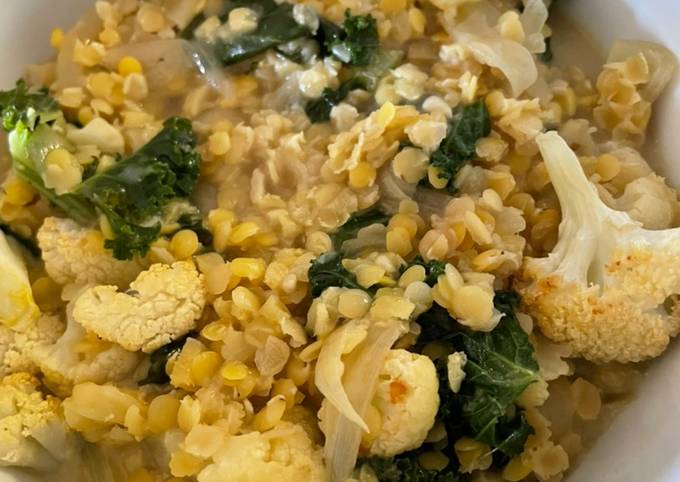 You can have 1-Pot Cauliflower Dal Green Curry using 16 ingredients and 10 steps. Here is how you cook it.
Ingredients of 1-Pot Cauliflower Dal Green Curry
Prepare 3/4 cup of split mung beans/moong dal ➡️ sub with green/brown/golden lentils.
It's 2 tbsp of coconut oil OR avocado oil.
It's 2 of medium shallots (thinly sliced).
Prepare 2 Tbsp of freshly chopped ginger.
It's 2 of garlic cloves OR 2 tbsp minced garlic.
Prepare 5 tbsp of green curry paste ➕ more to taste ➡️ store-bought will be more intense in flavor, so start with 3 tbsp and work your way up to preordered taste.
It's 2 cups of roughly chopped cauliflower (or other seasonal vegetable of choice).
Prepare 2 (13.5 oz) of cans light coconut milk (can sub half with vegetable broth for a lighter curry).
It's 2 Tbsp of coconut aminos (plus more to taste, or sub tamari).
You need 1 Tbsp of maple syrup or coconut sugar.
Prepare 3-4 cups of chopped kale or spinach (or other green of choice).
It's 2 tbsp of lime juice.
It's of Prep.
It's of Super soak your moong dal or lentils in a bowl (or pot) and cover with water. Allow to sit for at least 1 hour (to increase absorption and speed cook time), or overnight. Then rinse and drain.
It's of Chop up your cauliflowers.
Prepare of Slice/chop your ginger, shallots and garlic.
1-Pot Cauliflower Dal Green Curry instructions
Set your soaked and drained moong dal or lentils aside.
Heat a large rimmed skillet or pot over medium heat. Once hot, add your coconut or avocado oil, shallot, ginger, and garlic. Sauté for 2-3 minutes, stirring frequently..
Once sautéed, add curry paste and cook for 1-2 more minutes..
Add cauliflower and sauté a few more minutes. Add coconut milk and stir to combine. Bring to a simmer..
Add in the moong dal, coconut aminos, and maple syrup and stir baby stir..
Return to a simmer and cook for approximately 15-20 minutes or until your moong dal is tender..
In the last 5 minutes of cooking, add in your greens (kale, spinach, etc) and stir until the greens are wilted (about 3 minutes)..
Now taste it! Add lime juice for acidity, maple syrup for sweetness, coconut aminos or salt for saltiness, or green curry paste for more intense curry flavor..
Serve plain like a stew, or over grains like rice or quinoa. Garnish with cashews and lime juice (both optional)..
Store leftovers in the refrigerator up to 4-5 days, or in the freezer up to 1 month. Reheat in the microwave or on the stovetop. Rehydrate with water or coconut milk as needed..
I am the 1st Winner of Cooking with Chef TV Show. I love cooking.