Homemade Jagariko (Crunchy Potato Sticks).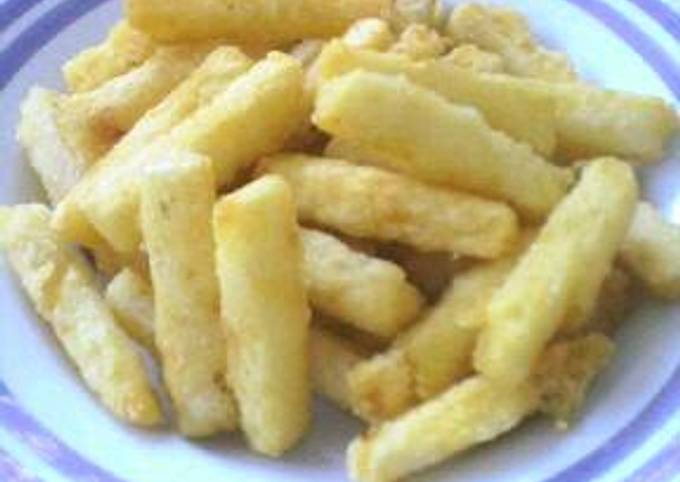 You can have Homemade Jagariko (Crunchy Potato Sticks) using 4 ingredients and 12 steps. Here is how you cook that.
Ingredients of Homemade Jagariko (Crunchy Potato Sticks)
It's 4 of peeled potatoes Potatoes.
It's 60 grams of Katakuriko.
Prepare 1 dash of Salt (optional).
Prepare 1 of Frying oil.
Homemade Jagariko (Crunchy Potato Sticks) instructions
Slice the potatoes thinly, put in a heatproof bowl and microwave for 7 minutes..
Mash the potatoes as well as you can with a fork, and then mix in the katakuriko (should become like a moist powder)..
Put the mixture from Step 2 in a plastic bag and flatten it with your hands to form a dough 5 mm thick. Place the dough in a shallow container and freeze for 40 minutes..
Remove the dough from the freezer and using the back of a knife or scraper, make cuts in the dough 1/2 cm wide and 3 cm long, from the outside of the plastic bag..
Put the dough back in the freezer for 5 hours (or less) until it has completely frozen and hardened..
Take out of the freezer and separate any strips that are stuck together. Deep fry in oil heated to 170℃. Sprinkle with salt, if desired..
Special Edition for Spring Sakura Flavored Jagariko. Remove as much salt as you can from 1 tablespoon of Sakura Tea and grind it in a food processor..
Add it to the Step 2 dough..
Make the rest the same way as the plain type.This shows the dough flattened in a plastic bag..
This shows the dough cut in 1/2 cm × 3 cm strips..
Deep-fried sakura-flavored Jagariko. They're a bit well-browned..
This is the scraper I use to cut in butter when baking a pie..
I am the 1st Winner of Cooking with Chef TV Show. I love cooking.