Grill Roasted Boston Butt.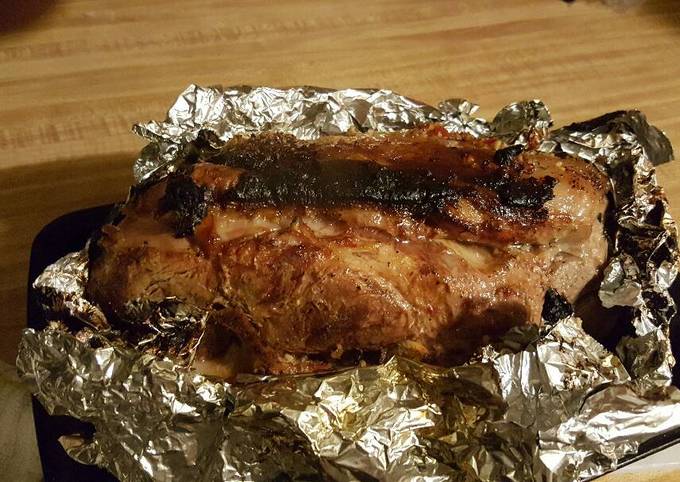 You can have Grill Roasted Boston Butt using 6 ingredients and 10 steps. Here is how you cook that.
Ingredients of Grill Roasted Boston Butt
You need 1 of Boston butt.
You need 1 bottle of Italian Dressing.
Prepare 1/2 cup of Worcestershire Sauce.
You need to taste of Season salt or Cajun Seasoning.
It's 9 cloves of Fresh, peeled garlic.
You need to taste of Garlic salt.
Grill Roasted Boston Butt step by step
Place butt in a large bowl and pour over entire bottle of Italian dressing. The longer it sits, the better it gets. 24 hours is ideal, but 2 hours is plenty. Place in refrigerator while marinating..
Remove from refrigerator. Take 2 sheets of aluminum foil, approximately 20 – 25" in length each. Lay out perpendicularly and spray liberally with non stick spray..
Remove butt from bowl and place in center of foil, fat side up. Make 9, small, deep incisions into the top of the butt and insert the peeled garlic cloves as deep as they will go. Sprinkle liberally with season salt or Cajun seasoning and garlic salt. Wrap foil around butt tightly, and then add another layer of foil and re-wrap..
Do not throw away your used marinade! You will need it later. I usually put mine into a measuring cup. Add your Worcestershire sauce and whisk until fully mixed..
Fire up your grill. If you're using a gas grill, adjust to low barbecue. If charcoal, put a layer of aluminum foil over your grill surface. It'll keep your meat from singing..
Place butt in center of grill, FAT SIDE UP! Close lid and let it sit there for about 1.5 hours undisturbed..
After 90 minutes have passed, take a sharp knife and cut about a 12" slit into the center of the foil to expose the meat. Pour about 1/4 cup of your marinade into the reservoir you've created. Repeat this every 20 minutes until you have used all of it..
After you have used all of your marinade, allow the butt to cook for another 1.5 – 2 hours, depending upon size, or until thoroughly cooked..
Carefully remove from grill, place in roasting pan, slice and enjoy!.
Ready to eat!.
I am the 1st Winner of Cooking with Chef TV Show. I love cooking.