Sundried Tomato Bisque & Grilled Cheese Croutons.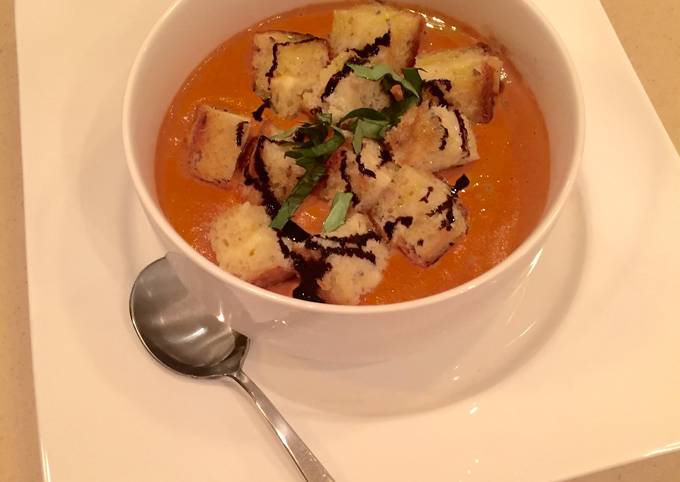 You can have Sundried Tomato Bisque & Grilled Cheese Croutons using 20 ingredients and 11 steps. Here is how you achieve that.
Ingredients of Sundried Tomato Bisque & Grilled Cheese Croutons
You need of Bisque.
It's 1/4 cup of Olive Oil.
It's 2 tsp of Minced Garlic.
You need 1/2 cup of Red Onion.
Prepare 1/3 cup of Sundried Tomatoes.
It's 28 oz of Diced Tomatoes.
It's 2 cup of Tomato Juice.
It's 4 dash of Dried Basil.
You need 2 tbsp of Rice Vinegar.
It's 2 tbsp of Sugar.
Prepare 2 each of Basil Leafs.
It's 1 cup of Heavy Cream.
Prepare 2/3 box of Philadelphia Cream Cheese.
You need of Grilled Cheese Croutons.
Prepare 4 slice of Bread of Choice.
You need 4 slice of Cheese of Choice.
Prepare 4 tbsp of Butter.
It's 4 each of Basil Leaves.
You need 1 tbsp of Olive Oil.
Prepare 1 dash of Balsamic Vinegar/Glaze.
Sundried Tomato Bisque & Grilled Cheese Croutons instructions
In a 5 qt. pot heat olive oil on medium heat, add diced red onions, sauté for about 3 min. Add garlic and sundried tomatoes, sauté for another 3 minutes. Control heat depending on your stove. Heat may be turned down to ensure the onions and garlic don't burn..
Add diced tomatoes, tomato juice, basil, rice vinegar, & sugar. Stew on med/low heat for about 10 min. (Stir regularly).
Julienne or chop fresh basil leafs. Add to pot and continue stewing for 10 more minutes (stir regularly)..
While tomatoes and seasonings are stewing begin to prep to make the grilled cheese croutons. Gather all of the recommended ingredients. ** I will note that I find, the more dense the bread, the better crouton it makes. **.
Butter one side of each piece of bread. Turn the bread over so the unbuttered side is exposed. Add two slices of desired cheese to two pieces of the unbuttered side ( you can use shredded cheese, I find that sliced cheese is easier to maintain). Take the other two slices of bread (one of each) place the unbuttered side on top of the two pieces that have cheese already on them. This should expose the butter on the outsides of each of the bread slices..
Go back to the stew and add heavy cream. Chop 2/3 of the cream cheese block into chunks (this helps the cream cheese to melt faster) add to the pot. Simmer until the cream cheese has melted. Approx. 5-7 min. Stir in the meantime. ***I will note: the better quality cream cheese the better consultancy you will have! Generic/cheap brands tend to separate faster. I will also mention, if you feel the bisque is too thick for your liking you can always add more tomato juice. This will thin out the consistency making more of a soup..
Once cream cheese chunks have melted, use a hand blender to purée ingredients. Do this until all of the tomato chunks have liquified. This will also help if any cream cheese did not fully melt. Keep on low heat until ready to serve..
Heat a sauté pan on medium/low heat for a couple of minutes. After the pan is hot, add buttered cheese sandwiches. You may need to turn heat down to low depending on your stove. Watch for the bread to get golden brown and still slowly melt the cheese in the middle. After one side is golden brown and crisp, flip sandwiches over to cook the other side. Watch carefully for the other side to get golden and crispy as well. Once both sides are crisp, move to a side plate..
Take your newly grilled cheese and cut them into cubes..
Julienne/Cut more fresh basil..
Serve the Tomato Bisque into desired bowl. Add grilled cheese cubes (croutons) on top of the bisque. Drizzle a bit of olive oil and balsamic vinegar. Top off with fresh basil and serve!.
I am the 1st Winner of Cooking with Chef TV Show. I love cooking.